Check out these reviews and pictures uploaded by our Etsy customers:
JENN
on May 11, 2020
I absolutely love these masks! They are easy to size, comfortable to wear, and cute to boot! I am definitely going to buy more as gifts. Love that it enables me to support a small business from afar as well. Thanks so much!
ANIA
on September 3, 2020
Love these masks so much, I just ordered 5 more! I've ordered a lot of different masks from different sellers, and these are by far the most beautiful and comfortable ones I've found! The nose wire and adjustable straps allow for a super custom fit so you can make them as tight or as loose as you like. Going back to work in person in two weeks, and I'm so excited to finally have a comfortable mask to wear all day. I can't wait to receive my next batch 🙂
CINDY
We love our masks! We had to get more!
KAREN
I bought a few masks from different sellers and this one is my favorite by far. The coverage the mask provides and the material it's made of are great. The nose wire and filter pocket were also exactly what I needed. To top it off, the mask looks amazing and I love the colors. Highly recommend. While writing this review, I've decided to buy another mask or two. Great store with a great mission, so I'm happy to support.
MONICA
Beautiful masks that are super adjustable and fit really well! Colors and patterns are gorgeous. Long elastics make it easy to tie at the perfect length to stay in place while also being comfortable. The nose wire runs the full length of the top of the mask, so it can be molded to fit your cheekbones as well as your nose, and eliminate any escaping air. No foggy glasses!
NANCY
on Jul 14, 2020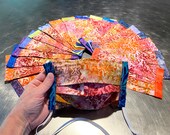 Favorite masks I own so far so I reordered more. Why?
-Cool prints (obviously)
-Nicely constructed with tight weave quilters fabric
-Adjustable fit with a flat nose bridge that goes across the whole top of the mask to fit across top of my cheeks, unlike others I have that just have a short thin wire
– Nicely hidden pocket for filter
-I customized the elastic so I could wear mask around ears, but I can drop it down around my neck when needed (while in car, for example)
-I received it earlier than I expected- Includes general mask education info (thanks)
M. HUDSON
on Sep 18, 2020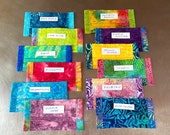 5 out of 5 stars
High quality masks! I appreciate being able to order a pack as the kids head back to school.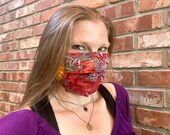 5 out of 5 stars
I love being able to support a business in my hometown! As a retail worker, I have to wear a mask 8+ hours a day, and this mask design makes it easy to do so. Being able to loop the elastic around my head and neck saves my ears from getting wrecked by day's end. The fabric style is great– several of my co-workers complemented me on it (I purchased this plus a Magenta Storm)! Seller communication was great, and shipping was prompt. Thank you!